WELCOME TO THE HOME OF THE
PALM BEACH MAKOS FOOTBALL ORGANIZATION!
MAKOS HOME GAMES KICK-OFF AT 7:00PM
TICKET PRICES: $7.00 ADULTS /
$5.00 STUDENTS & CHILDREN 5 & OVER
CHILDREN 4 & UNDER FREE
SEASON TICKETS (REGULAR SEASON) - $20 PER PERSON
GROUP RATE (AT GATE) - 4 TIX $25 / 5 TIX $30
~~~~~~~~~~~~~~~~~~~~~~~~~~~~~~~~~~~
MAKOS CAPTURE EASTERN DIVISION CROWN
~~~~~~~~~~~~~~~~~~
HOME FIELD
INLET GROVE HIGH COMMUNITY HIGH SCHOOL
600 W. 28TH STREET., RIVIERA BEACH, FL 33404.
SCHOOL PHONE: 561-881-4600
***DIRECTIONS TO INLET GROVE***
FROM I-95 -
EXIT I-95 AT BLUE HERON BLVD (EXIT 76), GO EAST FOR 4.8 MILES, TO AVENUE 'H' W TURN LEFT, GO TO SECOND ROAD, TURN LEFT AND FOLLOW ROAD TO STADIUM ON THE RIGHT..
FROM THE TURNPIKE -
MERGE ONTO FLORIDA'S TURNPIKE N VIA THE RAMP ON THE LEFT TOWARD ORLANDO (PORTIONS TOLL). TAKE EXIT 107 BEELINE, FOLLOW TO STOP LIGHT AND TURN LEFT. TURN LEFT ONTO BLUE HERON, GO UNDER I-95 BRIDGE, THEN GO EAST FOR 4.8 MILES, TO AVENUE 'H' W TURN LEFT, GO TO SECOND ROAD, TURN LEFT AND FOLLOW ROAD TO STADIUM ON THE RIGHT..
~~~~~~~~~~~~~~~~~~~~~~~~~~~
Makos 2nd Annual Toys-4-Tots Game a Success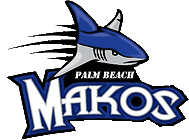 The Palm Beach Makos 2nd Annual Toys-4-Tots game was a Success! The Makos collected more than 500 toys which will be a distrubuted to many children in the West Palm Beach area. The toys were collected for the Adopt-A-Family Foundation (www.adoptafamilypbc.org). This will truly be a blessing to children in the local community.
As for the game, the South Florida Chargers of the United Football Federation (UFF) proved to be a great warm up for the Makos as the the Makos won 18-12. The Makos defense stood strong against a quick running game from the Chargers, as the offense showed signs that their running game continued where it left off last year. This proves to be a successful season for the Makos.
~~~~~~~~~~~~~~~~~~~~~~~~~~
Makos 2nd Annual Turkey Bowl 2014
MAKOS RECOGNIZED FOR COMMUNNITY OUTREACH WITH 2ND ANNUAL TURKEY BOWL
THE PALM BEACH MAKOS CONTINUES THEIR COMMUNTY OUTREACH WITH THE 2ND ANNUAL TURKEY BOWL. THE MAKOS DOUBLE THEIR EFFORTS BY GIVING AWAY 20 TURKEY BASKETS TO FAMILIES IN NEED. THE MAKOS RECIVED THE ATTENTION OF WPTV (5)ESPN FOR THEIR EFFORTS. OTHER THAN SUCCESS ON FOOTBALL FIELD, SUCCESS WITH COMMUNITY OUTREACH IS A HIGH PRIORITY FOR THE MAKOS. DURING THE 2014-2015 SEASON, THE MAKOS HAVE CONDUCTED SEVERAL COMMUNITY EVENTS TO INCLUDE NURSING HOME VISIT, BAG LUNCH OUTREACH, AND CHILDRENS HOSPITAL JUST TO NAME A FEW. NEXT UP FOR THE MAKOS WILL BE THE 2ND ANNUAL TOYS FOR TOTS GAME ON SATURDAY, DECEMBER 20TH.
THE MAKOS EDGED THE TWIN COUNTY RAIDERS 14-6 DURING THEIR 2ND ANNUAL TURKEY BOWL.
NEWS REPORT FOR TURKEY BOWL 2014: HTTPS://WWW.YOUTUBE.COM/WATCH?V=OVBZUOHDIRC&LIST=UU0BCUNP5RRKJZUTD3BBZ6KW
~~~~~~~~~~~~~~~~~~~~~~~~~~~
Makos Toys For Tots Game
THE PALM BEACH MAKOS ARE GEARING UP FOR ITS' 2ND ANNUAL TOYS FOR TOTS GAME AGAINST THE SOUTH FLORIDA CHARGERS OF THE UNITED FOOTBALL FEDERATION (UFF) ON SATURDAY, DECEMBER 20TH AT INLET GROVE HIGH SCHOOL AT 2:30PM. THIS IS THE SECOND MEETINGS BETWEEN THESE TWO TEAMS IN THE SAME NAMED GAME. LAST YEAR THE MAKOS WAS VICTORIOUS DEFEATING THE CHARGERS 14-6 IN A DEFENSIVE INTENSIVE GAME. THE MAKOS SEEK TO CONTINUE THEIR WINNING WAYS IN THIS YEARS GAME.
IN ADDITION TO THE GAME, THIS IS ALSO THE MAKOS TOY DRIVE WHERE WE WILL BE COLLECTING TOYS FOR ADOPT-A-FAMILY OF THE PALM BEACHES. THE MAKOS LOOK TO CONTINUE TO BE A BLESSING TO MANY BOYS AND GIRLS IN THE WEST PALM BEACH AREA THIS CHRISTMAS SEASON. LAST YEAR THE MAKOS DISTRIBUTED MORE THAN 300 TOYS AND LOOK TO DOUBLE THAT AMOUNT THIS YEAR. COME OUT AND BE A PART OF THIS SPECIAL EVENT WHILE ENJOYING SOME HARD HITTING FOOTBALL. ADMISSION TO THE GAME IS $5.00FOR ADULTS AND $3.00 FOR STUDENTS; CHILDREN 6 AND UNDER ARE FREE. LASTLY, ANYONE BRINGING A "NEW" UNWRAPPED TOY WILL GAIN FREE ADMISSION.
~~~~~~~~~~~~~~~~~~~~~~~~~~~~~~~~
90 YEAR OLD HOLDS' SPECIAL BOND WITH TRAINER & MAKOS PLAYER, MARVIN BOYD
PALM BEACH MAKOS PLAYER AND CERTIFIED PERSONAL TRAINER, MARVIN BOYD HOLD SPECIAL BOND WITH 90-YEAR-OLD JIM LOCKSHIN. FOR 30 MINUTES THREE TIMES A WEEK, JIM MEETS WITH MARVIN FOR MORE THAN A YEAR. BEFORE MEETING WITH MARVIN, JIM COULD NOT WALK, BUT NOW HE IS ABLE TO WALK WITH ASSISTANCE. MARVIN IS THE OWNER OF NEXXLEVEL FITNESS OF WEST PALM BEACH. THIS SPECIAL COMMITMENT FROM MARVIN WITH MR. LOCKSHIN SHOWS THE TRUE ETHOS OF THE MAKOS OF HONOR, COURAGE, COMMITMENT AND LEADERSHIP.
CLICK THE LINK TO VIEW THIS SPECIAL BOND: HTTPS://WWW.YOUTUBE.COM/WATCH?V=Q3A-Y-HFRIO&FEATURE=YOUTU.BE
Click for Link on try-outs and Marvin Boyd: http://youtu.be/qk3RzzqJ8Xc
~~~~~~~~~~~~~~~~~~~~~~~~~~~~~
Makos edge the Raiders during 2nd Annual Turkey Bowl while Blessing Families
The Palm Beach Makos edged the Twin County Raiders 14-6 during their 2nd annual Turkey Bowl. The game was a defensive battle for the first quarter as the Makos drove the ball but fail to score in the first quarter where the score ended 0-0 in the first. During the secong quarter, the Makos offense came alive and moved the ball and scored on a pass play from quarterback James Johnson. The two point conversion failed leaving the score 6-0 Makos and that was the score at the half. After a great half time presentation, the Makos continued to dominate on both sides of the ball. On another impressive drive of 82 yards, the Makos pounded it into the ball in the endzone with a hard run from Juan O'Farril bringing the score to 14-0 after a successful two point conversion. Late in the 4th quater, the Raiders scored on a pass play leaving the score 14-6 and where the game ended.
During half time, the Makos does what they do best and that is to give back to the community. Last year the Makos were able to bless 10 families with turkey baskets; this year the Makos doubled the blessings by giving away 20 turkey baskets to bless 20 families. As per before, Adopt-a-Family of the Palm Beaches was on hand to accept the baskets for the families. Representing Adopt-a-Family were: Rae Harris, Joe Morino, and Alecia Alexa. The Makos are known throughout the community for their givng and next community event will be the 2nd annual Toys-4-Tots game on Saturday, December 2oth at 2:30pm at Inlet Grove High School. Last year the Makos collected more than 300 toys and look to double that amount this year. Come out and support the Makos for this great community event. An unwrapped toy will get you in the game at no charge. As our mantra states, the Makos are looking to score success, one snap at a time!
~~~~~~~~~~~~~~~~~~~~~~~~~~~~~~~~~~~~~~~~~~~~~~~~~~
e
FROM MAKOS PLAYER TO CALIFORNIA LAWYER
Former Palm Beach Makos player, Jean Celian is a native of Ft. Lauderdale, where he grew up with his 3 siblings. He played football and ran track with North Lauderdale Academy High School and later transferred to Coconut Creek high school. He attended Palm Beach State College for 2 years before earning a football scholarship to Webber International University in Babson Park, FL. After one year at Webber, Jean returned to Palm Beach State College, where he earned his Bachelors Degree in Business. While earning his bachelors degree, Celian started his semi-pro football with the Lauderdale Lions. Leaving Broward County, Jean moved to West Palm Beach, where he joined the Palm Beach Makos football team where he was a running back. Entering into his second season with the Makos, Jean decided to pursue his career as a Paralegal in 2010. Deciding to leave the semi-pro football arena completely, Celian moved to California to begin his career as a lawyer. In 2012, he attended William H. Taft University Law School in Santa Ana, CA. Completing his requirements in 2014, Celian was conferred and passed the California Bar. Celian's goal is to own a talent and production company. Rev. Gary Wilder, President of the Makos, stated, "it is great to see former players of the Makos use this organization as a catapult to reach their goals and their potential. We as an organization is very proud of the accomplishments of Jean and pray for great success in his future endeavors."
~~~~~~~~~~~~~~~~~~~~~~~~~~~~~~~~~~~~~~~
Everyone come out and support the Palm Beach Makos Football Team and the Palmbeachmakos Cheerteam to enjoy a nice Pancake breakfast. Saturday November 15th 8am-10am...See any Makos player, staff or cheerleader for tickets or contact us at: info@palmbeachmakos.com on how to get a ticket.
~~~~~~~~~~~~~~~~~~~~~~~~~~~~~~~~~~~~~~~
MAKOS 2014 / 2015 FOOTBALL CAMPAIGN BEGINS!!
THE PALM BEACH MAKOS ARE GEARING UP FOR THE 2014/2015 SEASON. WE ARE LOOKING FOR PLAYERS WHO ARE INTERESTED IN BEING A PART OF THE MAKOS FAMILY. WE ARE NOT JUST LOOKING FOR PLAYERS WITH TALENT WE ARE ALSO LOOKING FOR PLAYERS COMMITMENT!! SO BRING YOUR TALENTS AND COMMITMENT TO THE PALM BEACH MAKOS!!
Makos try-outs: http://youtu.be/qk3RzzqJ8Xc
~~~~~~~~~~~~~~~~~~~~~~~~~~~~
MAKOS GENERAL MANAGER WINS VOLUNTEER SERVICE AWARD
RAY GORDON, THE MAKOS GENERAL MANAGER, WINS THE PRESIDENT'S VOLUNTEER SERVICE AWARD FOR NATIONAL AND COMMUNITY AWARD. GORDON IS AN EMPLOYEE WITH LOCKHEED MARTIN OF RIVIERA BEACH, FL AND HAS RECEIVED THE AWARD 2 OUT OF THE LAST 3 YEARS. HE IS VERY ACTIVE IN COMMUNITY SERVICE AND DURING THE 2013 YEAR, HE ORCHESTRATED OUTREACHES TO THE PALM BEACH CHILDREN'S HOSPITAL AT ST. MARY'S MEDICAL CENTER, AMERICAN HEART ASSOCIATION HEART WALK, MAKOS 1ST ANNUAL TOYS FOR TOTS OF WEST PALM BEACH WHERE THE MAKOS GAVE AWAY MORE THAN 300 TOYS TO ADOPT-A-FAMILY OF PALM BEACH COUNTY, MAKOS 1ST ANNUAL TURKEY BOWL WHERE WE GAVE 10 FAMILIES TURKEY BASKETS.
AT LOCKHEED MARTIN, GORDON IS COMMUNITY SERVICE COORDINATOR WITH THE A-R-I-S-E ORGANIZATION. A-R-I-S-E IS THE AFRICAN-AMERICAN RESOURCES AND INFORMATION SHARING FOR EVERYONE. IT IS AN ORGANIZATION THAT IMPROVES THE PERFORMANCE OF LOCKHEED MARTIN BY ENCOURAGING PARTICIPANTS TO BECOME KEY CONTRIBUTORS WITHIN THEIR ROLES.
HE IS BUSY STARTING THE COMMUNITY SERVICE WITH THE 1ST OF MANY BROWN BAG LUNCH GIVE AWAY FOR THOSE IN NEED THROUGHOUT THE CITY OF WEST PALM BEACH DURING THE 4TH OF JULY WEEKEND. CONGRATULATIONS TO RAY GORDON ON WINNING THIS AWARD AND FOR THE SERVICE TO THE MAKOS ORGANIZATION.
~~~~~~~~~~~~~~~~~~~~~~~~~~~~~~~~~~~
PALM BEACH MAKOS FOOTBALL TEAM COMMUNITY OUTREACH
ON FRIDAY, JULY 4TH 2014, THE PALM BEACH MAKOS FOOTBALL TEAM AND THE PALM BEACH MAKOS CHEER TEAM WILL BE HAVING THEIR FIRST OF MANY 4TH OF JULY "BROWN BAG LUNCH" GIVE AWAY. WE WILL BE CANVASSING THE CITY OF WEST PALM BEACH HANDING OUT BROWN BAG LUNCHES CONSISTING OF SANDWICHES, CHIPS AND A DRINK TO THE HOMELESS AND HUNGRY. THIS IS A SMALL TOKEN TO GIVE TO THOSE IN NEED OF ASSISTANCE. THE MAKOS LOOK FORWARD TO BEING A BLESSING TO THOSE WITHIN OUR COMMUNITY. GO MAKOS!!
~~~~~~~~~~~~~~~~~~~~~~~~~~~~~~~~~~~~~
Palm Beach Makos Mascot "Chewy" participated in the annual Miami Dolphins Mascot Halftime show with some very famous Mascots! Only 10 participated in this annual event and Chewy was the only Semi Pro mascot in the country to be asked to be a part of this event. You can find him on Facebook CHEWY the Mascot for the Palm Beach Makos or Twitter @themascotchewy! The Mascot played a little league football team on the field at halftime and it was a site to see these kids against the big furry characters. Congratulations Chewy!!
~~~~~~~~~~~~~~~~~~~~~~~~~~~~~~~~~~~~~~~~~~
PALM BEACH MAKOS HOLD TEAM PRACTICE
AT DYER PARK.
The Palm Beach Makos are currently conducting Practice at Dyer Park located at 7301 Haverhill Rd, West Palm Beach, FL 33412 on Tuesday's and Thursday's at 8:00PM.
Interested players are encourgaged to call the team at
954-399-2440
or
contact
General Manager - Ray Gordon at ray@palmbeachmakos.com or
Head Coach - Mike Rock at mike@palmbeachmakos.com